Fire Damage Restoration Experts in
Cleveland, Akron, Wooster
We offer solutions for:
(Click for more information about each solution.)
When it comes to fire damage, one thing is absolutely certain: no two scenarios are alike.
Every fire is unique in its cause, composition, size, and waste; some fires can involve more than 100 complex chemical reactions! How these factors combine together will affect how the fire damage restoration is conducted.
At ServiceMaster by Disaster Recon, we offer Free Estimates for homeowners and property managers interested in restoring their fire-damaged home or business.
Each estimate includes a written quote, a professional inspection from our company, and an on-site consultation where we address any questions you may have.
Fire damage restoration is a multi-phase process, and it's vitally important that the process begins within hours of the damage.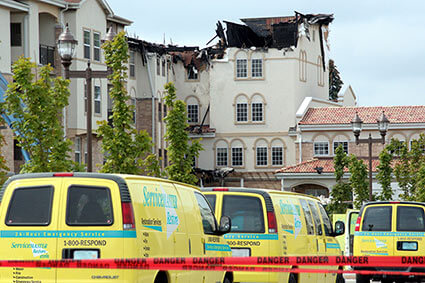 Recent Testimonials
"Professional and personable"

John T. of South Russell, OH

Kim B. of Chagrin Falls, OH
Mold damage can begin in as little as 24 hours after saturation of building materials. This damage can affect all organic surfaces, and can be much more expensive than the fire damage itself. Waiting even a single day to begin can greatly compound the damage, cost, and restoration time needed.
We specialize in fire damage restoration and repair, which includes repairs for fire-related damages like smoke damage restoration and soot damage repair. We serve Akron, Cleveland, Canton, Medina and many nearby areas in and around the Northeast Ohio area and other parts of Ohio.
Before and After

Before

After

Fire in garage burned a hole in the side of the house. We responded immediately and secured the home from further damage by rebuilding the fire damaged side of the house.

Before

After

Before

After

Fire damage to a home in Beachwood from a old generator caught the back of the house on fire which resulted in the entire roof structure removal and replacement.

Before

After

Fire damage to bedroom affecting entire top level of home.

Before

After

Restoration after a kitchen fire that left large amounts of damage. Fire damage restoration is one of our specialties! You can count on ServiceMaster by Disaster Recon to effectively restore your home to pre-loss condition!

Professional Fire Restoration Contractor in Cleveland, Akron, Wooster
HVAC System Warning!
Fire damage in your home leads to smoke and soot that gets into every nook and cranny of your home.
Tiny particles that ended up in your HVAC system during the fire can lead to irritation in your lungs and possible scarring of the alveoli. Have an HVAC professional inspect your system after any fire.
Homeowners and business owners are often anxious to begin the cleaning and restoration process immediately after the fire has been eliminated. However, unless they seek professional advice, they may be doing much more harm to the structure than good.
Our disaster restoration professionals are fully trained to address the fire damage in your home and create a plan that will eliminate odors and damage, restore your salvageable property, and minimize future disaster restoration damages to your home.
At ServiceMaster by Disaster Recon, our 24-hour emergency fire restoration service is available every day of the year. This ensures that we'll be on-site when you need us, helping you restore your structure quickly and competently. We also offer board-up services to secure the building and keep out unwanted intruders.
We service the towns of Cleveland, Akron, Wooster as well as nearby areas such as Lorain, Lakewood, Elyria, Cuyahoga Falls, Euclid, Mentor, Gates Mills, Brunswick, Stow, Strongsville, North Ridgeville, Eastlake, Richfield, Becksville and nearby. Give us a call at 1-855-488-5432 or contact us online for a Free Estimate. For 24-hour emergency service contact us today!
Fire Restoration Services We Provide:
Immediate response to emergency situations by us, an IICRC Certified Firm in Fire & Smoke Restoration.
We scope out the extent of damage, limiting any further other damage to property. We check for water damage in your structure and contents by using moisture sensors, meters and hygrometers in order to take appropriate steps to dry-out.
We apply an antimicrobial, if needed. We can also "Go GREEN!" Ask us how.
Content restoration – inspect, sort, decontaminate, clean, pack, store, and inventory contents.
Furnace and duct cleaning & sanitizing.
Thermo fogging, which applies a smoke & odor neutralizer to all areas that the smoke has reached.
Cleaning and deoderizing – walls, ceilings, fixtures, appliances, floor coverings, window coverings and cabinets affected.
Ozone machine – to disinfect and deoderize all affected areas.
All structural and finishing work done by Disaster Recon.
Insurance claims handled promptly, ethically and efficiently.
The final inspection of the finished restoration job, and the signing of Certificate of Completion and Satisfaction with property owner.
The Dos and Donts of Fire and Smoke Damage
Things you SHOULD do
Limit the movement and keep hands clean in the structure to prevent soot particles from being permeated into carpet, upholstery, walls and woodwork causing more damage.
Clean and protect chrome trim on kitchen appliances, bathroom faucets, tub fittings, cupboard handles etc. with a light coating of vaseline or other oil.
Remove pets (especially birds) to a clean environment.
Open windows for ventilation.
Empty freezer and refrigerator completely if electricity is off; prop doors open and wash plants with water on both sides of leaves (water softner helps).
Blow off or brush vacuum loose smoke particles from upholstery, drapery and carpet.
Pour antifreeze in toilet bowls and sinks and tubs to prevent freezing if heat is off in winter. Call plumber to drain heating system if heat is off in winter.
Change furnace filter.
Tape double layers of cheese cloth over air registers.
Things you SHOULD NOT do
Wipe or wash walls, ceilings or other absorbent surfaces.
Use upholstered furniture.
Use exposed food items or canned goods which have been subjected to excessive heat.
Use television, stereos or electrical appliances until cleaned & checked.
Send smoked garments to an ordinary dry cleaner – may set smoke & odor.
Use do-it-yourself home carpet or upholstery cleaners.
Turn on ceiling fixtures if ceiling is wet – wiring may be damaged.
Looking for a price? Get a no cost, no obligation free estimate.